Yeastar PBX's Integration with SIP trunking systems
Posted on: 2021-08-05 | Categories: Tutorials
Yeastar is providing service to more than 200,000 customers in over 100 countries with flexible, reliable, and powerful business communications solutions.
It is one of the main leading providers of PBX System designed for SME and providing latest innovations on Unified Communications (UC) solutions. Yeastar modernizes mission-critical communication systems for customers and provides new levels of performance and competitiveness.
Yeastar PBX solutions (PBX Cloud, S-Series y P-Series)
This provider PBX System comes with on-premises and cloud-based deployment options. So that you can choose one that fits your business the most.
S-series, is hardware based PBX designed  for small sized companies.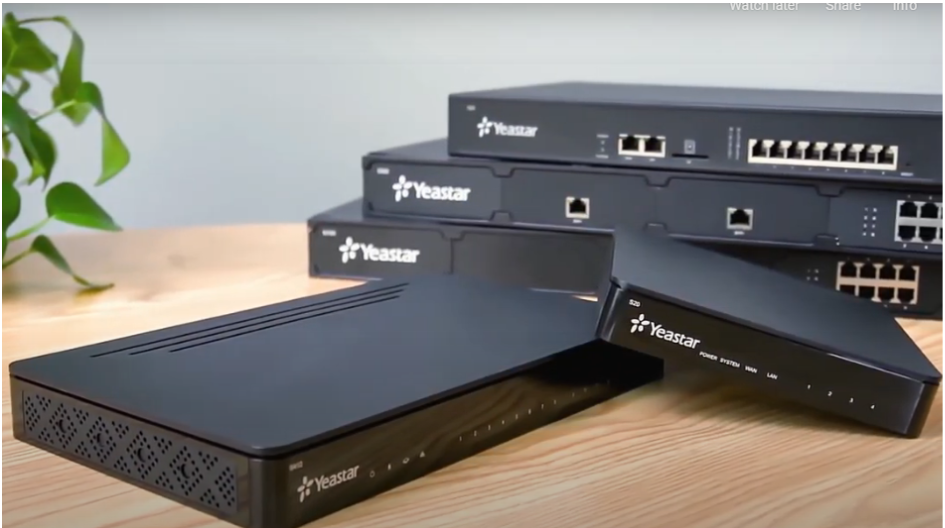 P-series, is software based PBX for small and medium sized companies. You could deploy your PBX on your local servers or virtualization environment but also under any third party hosting service. Your communications will be accessible remotely thanks to Yeastar (RAS) Remote Access Service.
Yeastar Cloud PBX,

scalable and flexible Cloud PBX service. You do not need to worry about managing and maintaining servers, just focus on the phone service set up. 
Compatible Yeastar SIP endpoints
As any regular PBX you could connect any IP SIP compatible device. In addition, it could be connected with the Yeastar computer and mobile app Linkus, which is also providing advanced UC features.
Linkus UC Clients, is the Yeastar UC application available using Windows, macOS, iOS, Android, and web browsers using chrome extension.

SIP Desk and DECT phones are compatible with manual setup and also support auto provisioning for main brands and models. Check compatibility list 

Generic SIP softphone applications, Like Zoiper, Microsip, X-lite, Bria, etc.
More relevant features
Yeastar has regular PBX features like call forwarding, ring group, IVR and many others PBX standard features plus some advanced features like: 
WebRTC and Video Conferencing: Right from

the web browser, you can not only make and receive audio and video calls, but also initiate and join meetings, share your screen, and chat with others in the meantime.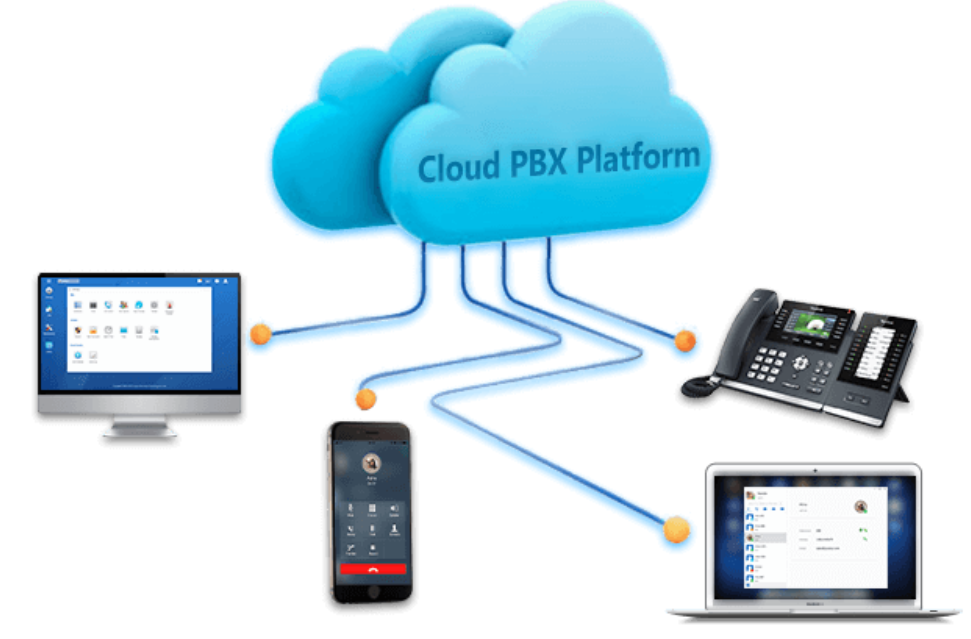 Economical Call Center Solution: Call center telephony for SMEs doesn't have to be expensive or complex. Use ACD, IVR, call recording, queue panel, wallboard, SLA, and reports to maximize agent efficiency.
Working from Anywhere: Yeastar PBX System helps connect and engage your in-office, on-the-go, and remote working employees with voice, video, applications, and collaboration. Yeastar Remote Access Service.
How to interconnect Yeastar PBX to PSTN
Yeastar PBXs could be interconnected to PSTN using: Analog lines, GSM, ISDN  or SIP trunk, all together.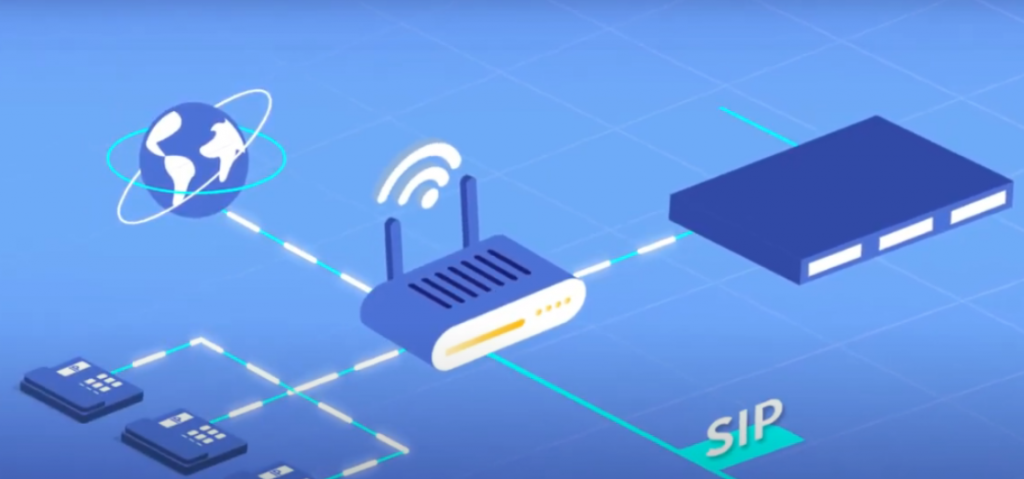 While to connect Yeastar to GSM, Analog or ISDN lie will require some external hardware or specific board.
Interconnecting your Yeastar using SIP trunk over internet connection does not require any additional hardware and it can be up and running in just 5 minutes. Check configuration steps under our GoTrunk configuration manual.
SIP trunk PSTN connection has the advantage that you can set up as many trunks as you like. This is allowing Yeastar users to easily add cost effective and backup routes.
See more advantages that you will gain by interconnecting GoTrunk to your Yeastar PBX: 
How to set up DDIs under Yeastar PBX
Once Yeastar PBX is connected to the PSTN, you can use any of the connections detailed before. You could just buy DDIs from the corresponding provider and set it up under the Yeastar platform by adding inbound routing routes.
You just need to browse settings (1), select Call Control (2), and add (3) roule for each number you like to add so indicating resource to route inbound calls to by: 
Set tag and DDI pattern with the inbound number. 

Move trunk number from number provider to Selected Tunks

Set For example Extension as destination.

Set an Extension number you like to divert calls to. 

Click save and apply.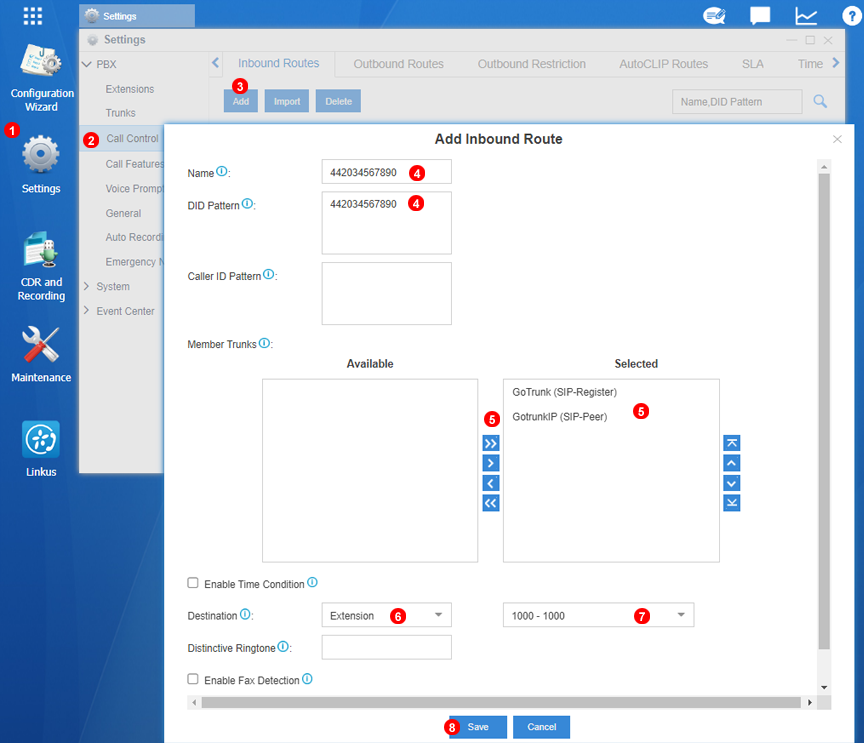 How do I set up Yeastar PBX
Latest Yeastar software release has an embedded setup wizard that helps customers to complete basic steps to get Yeastar PBX running. Main steps for set-up and configuration are:
Device installation.

Web GUI login.

Localize your PBX with timezone, system prompt, and region preference.

Change password and set up administration email.

Configure network settings and reboot your system.

Bulk create extensions for users.

Configure Linkus and enable Linkus Cloud Service.

Connect the Trunks to make calls. 
For more info, check for GoTrunk Yeastar Sip Trunk configuration manual 
Download Linkus UC App for your PC and smartphones

Create Inbound and Outbound Routes.
Or check for GoTrunk Yeastar route configuration
More specific feature configuration like DID settings, Emergency Number settings can be found on our youtube channel.
Yeastar technical support (how to contact, channels, documentation, etc.)
From Yeastar Technical Support you can access: knowledge-base, community forums and Yeastar academy. 
Your trusted integrator is also helpful to sort any doubts and questions.
From GoTrunk support you will get help with any trunk or route configuration issues.